Cyber Conversations - "Know your Vendor Risk" Webinar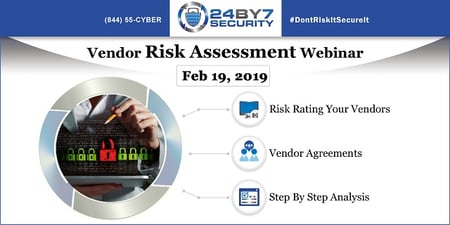 About this Webinar: Know Your Vendor Risk
If you have vendors performing important duties for you and/ or have access to your or your clients' confidential information, you may need to perform a Vendor Risk Assessment. Learn, among other topics, how to:
Identify the vendors that need a risk assessment.
Risk Rating your vendors
What kinds of vendor agreements do you need to maintain?
How do you go about performing a step-by-step vendor risk assessment, sometimes also called a Third Party Risk Assessment or Third Party Information Security Assessment?
Date: February 19, 2019
Time: 12:00 PM EST - 1:00 PM EST
CPE/ CEU Credits: You may be eligible for CEUs or CPE credits at some professional associations by attending this webinar. We will issue a Certificate of Completion to those who attend the webinar, to the specific email address and attendee name on the registration form. Please check with your professional association and its policies to see if you may apply for CEUs or CPE credits for this webinar.
Sign up to attend by filling in the form on the right.
What is "Cyber Conversations"?
As CyberSecurity experts and training specialists we are dedicated to educating the community in a variety of topics. So we have created a webinar series for 2019 dedicated to CyberSecurity and Compliance topics to help companies with their security, privacy, and related topics.
#CyberConversations
Upcoming Webinars:
Date: April 16, 2019
Time: 12:00 PM EST - 1:00 PM EST
Topic: Conducting a Security Risk Assessment in the financial industry
Stay Tuned! More webinars coming soon...