Five Steps to HIPAA Compliance for a Doctor's Office
Download this free guide to discover the 5 Steps!
Why do you, as a doctor, dentist or any other medical provider, need to comply with HIPAA? The Health Insurance Portability and Accountability Act, was enacted by the US government to ensure that doctors and other medical practices protect their data to prevent unauthorized persons and criminals from getting access to patients' confidential, private and financial information.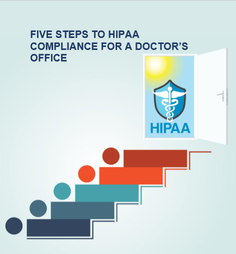 Professionals in the medical field have the moral and ethical responsibility to abide by laws that govern them and to provide the utmost care. This requires the ability to make logical decisions minute by minute, plus a great deal of patience, professionalism, and high standards related to HIPAA compliance to ensure protection of ALL health information.
Download this free guide to:
Expose your compliance strategy to potential pitfalls
Prepare and avoid common mistakes
Ensure you are not straying away from the current rules and laws
Fill out the form to access your guide now.