Download the Practical Guide to HIPAA!
The Federal Government has specific HIPAA requirements that include annual HIPAA training. According to the U.S. Department of Health and Human Services, as part of HIPAA Administrative Safeguards, all covered entities must train all workforce members regarding your security policies and procedures.
By training your employees annually, you not only are following HIPAA requirements, but also ensuring that every staff member understands and follows your policies and procedures. As a covered entity it is your responsibility to educate your employees about cyber risks that can affect your practice and clients.
Some people mistakenly believe that a HIPAA risk assessment is a one-time practice. Not only is it a recommended practice to conduct a risk analysis or assessment on an annual basis, but for some agencies and incentive programs, it is a requirement for attestation.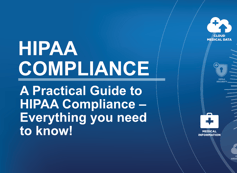 Download this free guide to:
Identify a HIPAA training program that is

engaging.
Establish

rules or guidelines that your organization follows on a regular basis.

Understand HIPAA and follow the proper steps to comply so that you can minimize your risk for a HIPAA violation.
Fill out the form to access your guide now.