Free E-book - Security Risk Assessments - Why your Business needs one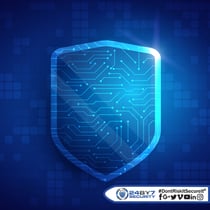 As companies connect to the internet, they not only avail of the benefits of internet connectivity, but if not managed properly, this connection can disclose internal information to the outside world. This information in the wrong hands poses a significant risk to the companies. In order to understand the Cyber/IT security posture of a company, the most basic way is to conduct a security risk assessment.
Security risk assessment consists of vulnerability assessment and assessing risks posed by weak, incomplete or absent policy, procedures, personnel, technology and strategy related to IT Security.
This risk assessment gives the company and its executives a picture of the overall risks.
Download this free guide to:
Identify your organization's IT assets and the risks or vulnerabilities associated with those assets

Prepare yourself for the primary steps in a proper Security Risk Assessment
Learn about

the nine essential elements in a proper Security Risk Assessment
Fill out the form to access your e-book now.